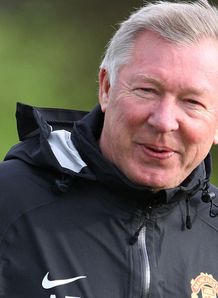 It's all over! Manchester City win 6-1 at Old Trafford! What a day for the visitors.
Silva plants a great pass right into Dzeko's path and he charges it down before slotting it home.
90+3 GOAL! 6-1 FOR CITY AS DZEKO SCORES ANOTHER!
90+3 It's almost over and this will go down in history for City.
90+3 That was so very nearly 6-1 as Dzeko comes close but blasts his effort into the stands. This is getting very embarrassing for United.
90+2 Three minutes of injury time have been added. The City fans are going absolutely wild!
90+1 It's just gone from bad to worse for United as Dzeko puts through Silva, who makes no mistake sliding it home.
90+1
GOAL! SILVA FOR CITY! What is going on?
90 United will be praying for the final whistle after that one. Barry gets the first header on the corner and Lescott keeps it in for Dzeko, who taps it home.
89
GOAL! DZEKO FOR MAN CITY!
89
Milner, who has been superb as was involved in two of the goals, comes off for Kolarov.
89 An error between De Gea and Ferdinand hands City a late corner. It really isn't United's day!
88 Another City chance as Yaya Toure curls a shot, looking for the far corner, but it trickles wide.
87 Rooney skips around Silva in midfield, trying to push forward. There's three United players in the box but Hart charges out to gather.
86 Smalling comes close with a headed effort in the area but is denied by the City defence. United's chances of a comeback are dwindling.
86
A blot on an otherwise superb display for Richards as he goes in the book.
85 United win a free-kick after Young is shoulder-charged by Barry. Richards then fouls Welbeck.
84 City take their time over a throw-in, which Nasri eventually sends to Dzeko. Young snatches possession but is closed down by Barry.
83
Another booking, this time for Welbeck, as he runs the superb Richards off the ball.
82 United are on the attack again until Jones makes a slip to give the ball away to Yaya Toure.
The Scotsman produces a one-two with Chicharito before unleashing a fantastic strike which slams past Hart and into the back of the net. Can that ignite a comeback for United?
81
GOAL! FLETCHER FOR MANCHESTER UNITED!
80 We're into the final 10 minutes of regular time now and City are 3-0 ahead and showing no signs of relenting. If United pulled off a comeback it would be truly remarkable.
79
Nothing comes from the set piece but City are still looking comfortable with their lead. There's another booking as Smalling sees yellow for a challenge.
78 Silva fires through Dzeko and the hitman tries a shot, which De Gea does brilliantly to save. City corner.
77 A rare smile from Balotelli on the bench as he jokes with fellow goalscorer Aguero. He's got plenty to smile about!
76 Rooney storms in with a strong challenge to win some needed possession for the hosts.
76
Nasri comes on for Aguero as City make another change.
75
The Bosnian is shown a yellow card for his troubles.
75 Dzeko commits a painful-looking challenge on Phil Jones in the City half. Looked nasty and Jones is on the ground.
74 Another chance for City as Silva tries a shot as the ball drops down into the area. He probably should have passed to Dzeko but it was worth a go.
73 United's players can't rise to reach the kick and it's headed out for a throw, which Jones takes. Welbeck tries a strike but it's blocked.
72 United win a long-range free-kick on the right of the City goal. Young lines up to take it.
71 Dzeko immediately tries a shot from close range. It's deflected off Smalling and rolls just wide as City get close once again.
70
Goalscorer Balotelli goes off for Edin Dzeko after a stunning display.
69 Micah Richards, who has been superb this afternoon, charges down the right and lofts in a cross for Aguero, who chips it home. City are cruising now!
69
GOAL! AGUERO ARRIVES WITH CITY'S THIRD! 3-0 CITY!
68 The City fans are all that can be heard at the moment as they chant Mancini's name. The home faithful have gone very quiet.
67
It's a short corner and City easily clear. Evra makes a studs-up challenge on Gareth Barry to earn a booking.
66 Hernandez makes an instant impact, winning United a corner. Can he turn this around for the home side?
65
Ferguson makes a double substitution as Anderson comes off for Phil Jones and Chicharito replaces Nani.
65 Silva hoofs in a cross meant for Balotelli from the left but Smalling is there to see off the threat.
64 United look likely to make a change as Jones gets up from the bench. Milner takes a corner for the visitors.
63 City go short with the kick and stay comfortably in possession. Richards storms forward once again and evades Rooney, who has suddenly turned left-back.
62
United's frustration is evident as Anderson fouls Aguero to earn himself a yellow card and concede a free-kick.
61 It's a Milner/Balotelli link-up once again, with Silva also playing a key role. Milner times a great run perfectly to pick up a Silva pass and crosses in for Balotelli from the right. The striker simply has to tap it home in front of goal as City take a 2-0 lead.
60
GOAL! BALOTELLI AGAIN FOR CITY!
59 Milner produces a good challenge on Young to win the ball for City just inside their own half. Evra fouls Richards, looking dangerous on the right, as United concede a free-kick.
58 Richards clears the corner but only as far as Rooney, who forces a save from Hart as he takes a shot.
57 Young passes a short corner to Nani and United try another attack until Smalling is shut down for another corner.
56 Young makes a superb challenge on Milner to the left of the City goal to win a corner for the hosts. Good spell for United.
55 More easy-on-the-eye football from City, who move the ball well in a slow-built attack. It culminates in Milner floating in a cross from the right but the advancing Aguero can't quite get a foot to it.
54 Young, set up by Fletcher, takes a couple of chances for United but is blocked by Milner the first time before firing his second wide.
54 Balotelli looks for Aguero in the middle and just outside the box but he can't get a shot away. Richards takes a wild swing inside the area seconds later but blasts it high into the stands.
53 City win a free-kick just inside their own half, which Yaya Toure takes quickly and it finds its way back to Joe Hart.
52 Rooney delivers a great long ball down the left for Welbeck and he makes the most of his pace to chase it into the box, but loses out to the City defence.
51 More drama as Richards goes down in a tangle with Anderson in the area, but Clattenburg waves for no penalty.
50 Smalling is forced to clear to shut down Silva on the left of the United box. City take a quick throw-in.
50 So United have to play this half with 10 men. Better opportunity than ever before for City to claim three points at Old Trafford.
49 That is not good news for United and they can only be relieved that Balotelli's free-kick is slammed into the wall.
48 Looked a legitimate red card after the United man tugged Balotelli down on the edge of the area. So close to being a penalty!
Evans is given his marching orders by Clattenburg!
47 City take early possession this half as Lescott rolls back to Hart. Aguero nods on Balotelli near the area and he's fouled by Evans.
46 We're back underway as City get things rolling this half. The visitors lead and there's been no half-time changes.
Thanks for all your half-time feedback, sorry I couldn't publish everyone's. Time for the second half - enjoy!
You Chelsea fans are loving Balotelli this afternoon!
Ben
wrote to say - "I disagree with the people that do not like Balotelli. He gives football a bit of controversy, but as long as he does the business on the pitch City fans won't mind. I'm a Chelsea fan. I hope it ends in a draw."
Shenol Mustafa is tipping the hosts to turn things around - "this game is good but man utd are out yet i think they will come back and win."
A half-time betting update for you from
Sky Bet
- Mario Balotelli - why always him? - is 10/1 to score the next goal. His City side are 8/11 to complete the win, while United are 4/1 for a comeback. The draw is 2/1, while a repeat of last year's scoreline - United 2-1 - is 7/1.
Sammy
has some issues with Ferguson's starting XI - "very disapointed with fegies choice to start i would preffer to see jones and hernandez or berbatov."
A few of you have been asking why Balotelli got booked when he didn't take his shirt off. Honest answer? I'm not sure. Seems a little harsh.
Chelsea fan
Steve
is warming to the controversial striker, Tweeting - "Balotelli is fast becoming my favourite non chelsea player you gotta love him!"
David
has Tweeted to say - "even when Balotelli scores a goal he still looks miserable, that boy needs to grow up. Just scored."
Get in touch with your thoughts - Tweet me @SkySportsRachG or emailrachel.griffiths@bskyb.com.
Enjoying Katy Perry's 'Firework' playing over the replays of Balotelli's strike.
It's half-time at Old Trafford and City are leading 1-0 thanks to Balotelli's goal! What did you think of that half?
45+1 Just one minute of stoppage time is added as City look to take their lead into the break.
45 Hart wins a goal-kick for City as the remaining seconds of this half trickle down. These opening 45 minutes have been highly entertaining.
44 Anderson and Nani are desperately trying to find a way through on the edge of the box. There are a couple of half-hearted penalty appeals seconds later when Rooney is felled in the area.
43 Clichy is there to intercept a Rooney pass down the right and dissolve a potential United assault. Back on the ball, Toure and Barry link up in midfield.
42 Things are really heating up now with attacks coming thick and fast at both ends. Anderson tries an optimistic shot from outside the box but is off target.
41
Vincent Kompany earns a booking for a dubious challenge on Welbeck.
40 Rooney crosses in from the right to find Evans in the box but the Northern Irishman can't latch onto the ball and City clear.
39 Welbeck gets away from Barry and finds Rooney on his left in a good position, but the striker can't quite unleash a shot. United win a corner.
39 Balotelli takes the resulting free-kick but his relatively tame effort smashes straight into the United wall.
38 Anderson makes a nasty looking challenge on Silva and gets a talking to from the ref. The United faithful are livid after a tackle by Richards went unpunished moments earlier.
37 Nani feeds Rooney on the edge of the box but the striker can't get enough power behind his shot and it goes harmlessly to the waiting Hart.
36 Y Toure can't get his head to Silva's kick as it sails high and United huff a sigh of relief. City are looking dangerous now.
35 Balotelli takes a tumble after an Evra challenge and City win a free-kick from a good position, which Silva lines up to take.
34 Young's cross is deflected behind for a United corner, their third of the match. The ex-Villa man floats it in and Hart pushes it clear. Anderson then hoofs it back in and the keeper does well to get back into position to make another block.
33 Nani's attempted cross from the right is dealt with by Clichy. United are pressing again but struggling to break into the box.
32 Richards brings down Ashley Young for a United free-kick in the middle of the park. Evans and Fletcher try to find a way through.
31 Anderson gives the ball away with an ill-judged pass. Balotelli looks threatening on the left and crosses in, but Y Toure's long-range shot is well wide.
30 Kompany has the ball in midfield and trades passes with Lescott but Anderson wins it back from Milner.
29 Milner wins a battle with Nani in the City half and earns a goal-kick for the visitors. Mancini and Balotelli take the opportunity to have a brief chat on the touchline.
28 Nani fires a cross meant for Welbeck into the box but misjudges it and it rolls straight back to the visitors. Unusually sloppy from the winger.
27 There's no one there to meet Richards as his storming run comes to nothing. Young wins a throw for United to the left of the City net. Seconds later he fires in a powerful cross-shot but it flies across the face of goal.
26 United try to regain their foothold as Evra attempts to find Young down the left but Richards reads it well and bombs off on the counter attack.
25 Aguero fires in a cross for Balotelli from the right but it skims just over the top of his head in front of goal. City are definitely in charge now.
24 A goal against the run of play for City but a superb strike nonetheless. United will have to keep their composure now...
23
Silva does well to pick out Milner on the left of goal and the City man crosses back in for Balotelli, who makes no mistake in driving it past De Gea. His undershirt reads 'Why always me?' as he's booked for his celebration.
22
GOAL! BALOTELLI FOR CITY!
22 City enjoy a spell of prolonged attack, gradually building with a series of well-placed passes.
21 Lescott is forced to concede a throw under pressure from Welbeck on the right of the City goal. Nani fires a dangerous ball into the box but Kompany is there again to clear.
20 City can't seem to get the ball away from their own goal until Fletcher boots a weak pass into the box and Joe Hart snatches it to safety.
19 Kompany performs a risky challenge on Rooney just inside the box but it pays off as he snatches possession for City to get the ball clear.
18 Welbeck survives a challenge from Kompany to keep the ball as United mount another attack, but the City defender atones when he steals it from Rooney.
17 Anderson wins the ball in the City half but gives it away to Clichy, who does well to beat Nani.
16 United took control in the early minutes but City look like they're getting into it now as the game starts to settle.
15 Milner blasts his corner high and it comes to nothing as the home side pounce back on the ball.
14 Silva makes a superb, skilful run, shrugging off several defenders, as City finally start to find their feet and the visitors win their first corner.
13 It's United applying all the pressure at the moment with a blocked chance from Young. Balotelli and Smalling collide to leave the striker on the floor and there's a pause in play, but he soon gets back to his feet.
12 Fletcher closes down Aguero in midfield after the City frontman picks up a good Kompany pass. United are working incredibly hard so far.
11 Another corner for United as the hosts make the brighter start. Nani takes it quickly, setting up Anderson. He charges towards goal but Richards is there in the box to head his cross clear.
10 Rooney rises to meet Young's free-kick from far out on the left but he's surrounded by City players and beaten to it with his header.
9 Rooney charges down the left wing to meet a long pass but Kompany gets there first as United win a throw. Another free-kick is conceded by City as Milner fouls Young, but the City man avoids an early booking.
8 Young passes a short corner to Anderson and Rooney picks up the ball on the edge of the box. He fires it back to Anderson but the Brazilian can't keep it down with a header and it goes behind.
7 Richards makes a strong challenge on Young as City concede another free-kick. Welbeck wins a corner for the home side.
6 Aguero is brought down in midfield by Anderson and the advantage goes to City. Barry and Lescott swap passes in their own end.
5 Nani takes a throw-in for the hosts on the left of the City half. United win another free-kick soon after which Smalling takes quickly, finding Young.
4 Ashley Young wins a free-kick on the left of goal for United after a tussle with Zabaleta but nothing comes of the set-piece.
3 Clichy gets away from Welbeck and knocks the ball out for a quick United throw.
3 It's City's turn for a goal-kick and Hart and Lescott exchange passes. United snatch possession in midfield and Smalling gets forward, picking out Nani on the right.
2 United get an early goal-kick which De Gea rolls to Anderson. He lofts the ball upfield with a diagonal pass but overshoots Nani.
1 The ball rolls straight out and Smalling takes a throw in midfield. It goes to Evans who rolls it back to De Gea.
1 We're underway in Manchester and United get the ball rolling. Looking forward to this one!
Thanks for all your feedback. It's almost time to get underway at Old Trafford so enjoy the game. Fingers crossed for an entertaining clash!
Nick Walker
believes a win today could establish City as serious title contenders. He Tweeted - "If man city are capable of winning this at old Trafford then they are capable of winning the league."
Chelsea fan
Felix
is hoping it ends all-square - "am going for an entertaining 2-2 draw..for the sake of chelsea."
Liam
has Tweeted to say he's going for a City win and an Aguero treble - "got say City for the win, 3-2 aguero hat-trick maybe?"
Jeff Gatenby
thinks United will walk it with a 2-0 win - "Im a Sunderland fan but i'm really looking forward to this and fancy Utd to win 2-0 with Nani and Rooney the scorers."
Ferguson's choice of centre-halves is not sitting well with
Jasan Sivanesan
- "I'm a bit worried about how the centre back pairing will hold up for United today. I prefer Smalling in the middle alongside Rio. For me, Evans has not performed strongly enough this season and I would have preferred Jones over him. It will be a very close game and it will be interesting to see how City have changed since the Community Shield loss in August."
To answer Venki's query on Twitter, this afternoon's referee is Mark Clattenburg (Tyne & Wear).
The Red Devils have also won their last 19 league home matches in a row - making Old Trafford a formidable place for leaders City to visit.
United have won five and lost none of the last six Premier League games against their city rivals - a run City will be desperate to address this afternoon.
Mark
the Macclesfield fan has Tweeted to say he expects United to edge it today - "I believe that Manchester United will just have enough to beat City - 2-1."
Mancini has chosen not to start Edin Dzeko or the wantaway Carlos Tevez, with Mario Balotelli and Sergio Aguero leading his frontline.
Ferguson's decision to drop Little Pea to the bench could pay dividends, says
Stefan Howarth
- "Having Hernandez on the bench is a great idea, he's certainly an impact player and could be useful later, I can't deny that City are starting to intimidate me somewhat, but its Old Trafford so I think United will still win."
There's no captain Nemanja Vidic in Ferguson's XI, with Jonny Evans stepping in, but Rio Ferdinand returns.
Some surprises in the line-ups then, with Javier Hernandez missing out on a starting spot to Danny Welbeck as Sir Alex Ferguson makes the most of his attacking options.
Abhinav Athreya
from Cincinnati sacrificed his night out to watch the derby - "Gave up going out last night so that I'd be up in time to watch the game! Although my heart says a 3-2 win for United, my mind says it's going to be a 2-2 fiercely contested game. Come on UNITED!"
Here are the subs for you - United: Lindegaard, Jones, Park, Chicharito, Berbatov, Fabio, Valencia. City: Pantilimon, Kolo, Zabaleta, Kolarov, De Jong, Nasri, Dzeko.
Harry Ewing
has been in touch via Twitter and this will be no bore draw according to him - "utd to win 4-1 rach!!!"
Roberto Mancini's men currently sit two points ahead after setting the Premier League alight so far this season (no pun intended, Mario Balotelli).
This promises to be a fiercely contested showdown, with the Manchester rivals tussling for the top spot.
And here's the United line-up: De Gea, Smalling, Ferdinand, Evans, Evra, Fletcher, Anderson, Nani, Young, Rooney, Welbeck.
Our friends at
Sky Bet
make United slight favourites at 6/5 to beat their city rivals, while City are 12/5 and the draw is 23/10. It's a massive Manchester derby and both managers have shown attacking intent with their starting line-ups. Rooney and Welbeck start for United and are 5/1 and 7/1 to score first respectively, while City's main man Sergio Aguero is 7/1.
No United team as yet but here's the City XI for you: Hart, Richards, Kompany, Lescott, Clichy, Barry, Yaya, Milner, Silva, Aguero, Balotelli.
You can Tweet me @SkySportsRachG or send a good old-fashioned emailrachel.griffiths@bskyb.com.
Team line-ups will be coming your way very shortly but first why not drop me a line with your thoughts ahead of the big kick-off at 1.30?
Good afternoon all and welcome to our live coverage of the Manchester derby between United and City!